Captain Mustafa's Private boat trip - Fethiye Turkey
Enjoy a mementos day aboard Capt Mustafa's Boat.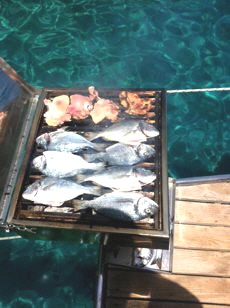 Captain Mustafa's boat has been extensively refurbished with a larger upper deck and a sail. With the introduction of the sail your experience is further enhanced by enjoying the quiet tranquil motion of the boat under sail with the sound of the wind and water lapping around the hull. A new upper deck has now been added over the top cabin giving even more room with seating and sunbathing area
There is a BBQ included in the price which is cooked on the BBQ on the back of the boat which includes fresh chicken, fish and other Turkish meat dishes. A buffet style spread of salads and fresh locally produced vegetables compliment the cooked food, prepared on board by the Captains' wife. There are also both soft and alcoholic drinks available on the boat, ice cold straight from the fridge. Tea and coffee are also served.
There is plenty to do on your trip which includes stop offs at secluded bays, swimming off the boat and snorkelling to name a few.
As this is a private trip the day is designed around you, simply let the Captain know what type of things and places you would like to do and see and he will tailor the trip to include what he can. This is a friendly family owned boat giving you a real sense of being well looked after with all food freshly prepared and cooked on board.
This boat trip is available from 10:00 in the morning until around 17:00 in the afternoon offering a good full days outing.